FROM MULTIPLICITY TO ONENESS
by Sasha Pedersen & Marilyn Picard
** 181 Pages ** ** 8 1/2" x 11" ** ** Paperback ** ** Illustrated **
Privately published in 1996 ~ ISBN 0968089208
This book was written for anyone who has been diagnosed as having a dissociative condition, for their family members, friends, support people, professionals and for anyone who has an interest in understanding more about this fascinating subject.
It was written by two people who know from both personal and professional experience, what it is like to live with alter personalities, how to cope and what is helpful for people as they journey into Oneness, what some people call integration.
There are chapters that talk about how to support someone with a dissociative condition, helping children to cope, therapy with a multiple, crisis intervention, addictions, spirituality, and support groups. It is written in language that is easy to understand and contains many practical ideas about how to cope and how to heal, written both for the person who is living with a dissociative condition, and the people who are supporting them in various capacities.
It covers the entire healing journey from the early days of diagnosis to what it feels like to be integrated. There is information about difficult topics such as suicide and remembering the abuse and stories of some of the more humorous things that people experience.
It is the book that Sasha and Marilyn wished they could have carried with them as they healed. "Now there is an excellent book available; a handbook and a guidebook, for both care providers and people with dissociative disorders. FROM MULTIPLICITY TO ONENESS is the chronicle of Sasha and Marilyn's healing and the changes that they made in themselves and in their community. There has already been a huge impact from their work locally. This book will make their work more accessible to a much wider audience. They have given us a powerful guide to the healing wisdom within us all. I am grateful to them for this gift."
George F. Linn, MD, FRCP
From the Foreword
This book is not available through amazon or any other online bookseller.
To Order Your Copy of From Multiplicity To Oneness, Please Write To:
Sasha Pedersen, Box 162, Gananoque, Ontario, Canada, K7G 2T7
or for more information, E-mail :
Please include a cheque or money order (Payable to Sasha Pedersen) for $22.00 Canadian plus $3.00 for shipping (about $16 U.S. plus $4 for shipping -- check a currency converter online) for each copy.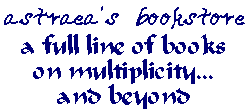 Email | Guestbook | FAQ | Astraea home | Multiplicity | Religion | Politics | Anti-Psych | Anti-FMSF | Silly