tin soldiers and nixon's coming
we're finally on our own
this summer i hear
the drumming
four dead in ohio
gotta get down to it
soldiers are cutting us down
"should have been done
long ago"
what if you knew her and
found her dead on the ground
how can you run
when you know

tin soldiers and nixon's coming
we're finally on our own
this summer i hear
the drumming
four dead in ohio,
four dead in ohio
how many,
how many more
why, why...

neil young with david crosby,
stephen stills and graham nash
"ohio"
atlantic records 1970


click here to listen,
and never forget.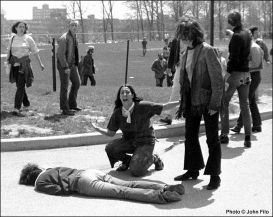 Her name is Mary Vecchio.
The dead boy is Jeff Miller.
Other Kent State photos & material

Mayday: The Story of Kent State
by J.G. Payne
The May 4 Archive

Four Dead in Ohio by William Gordon
Kent State & the Quest for Truth
Charles Thomas of the National Archive & his 30-year search for answers... more here.
Rock & Roll and the War in Vietnam
America Kills Its Children
by Jonathan Wallace
An NCO's Perspective by Colin Campbell
Alan Canfora's Website The boy who waved the black flag at the guardsmen now keeps this educational site.
Wikipedia article Much more info.
Ohio State Protestors Silenced:
June 2002 No Free Speech Under Bush!