By Will Meek, PhD
Originally appeared on PsychCentral

Some of you may be following the development of the forthcoming fifth revision to the Diagnostic and Statistical Manual of Mental Disorders (DSM), the major book used for psychiatric diagnosis. There has been a lot of criticism due to the secrecy of the process this time around, but the British Psychological Society (BPS), the major mental health organization in the UK, is taking an even more interesting and refreshing angle: criticizing the entire current framework of diagnosis.

The DSM takes a medical approach to diagnosis. In short, this means that a 'patient' is assumed to have an underlying 'pathology' that manifests as various 'symptoms' that are assessed to make a 'diagnosis' and then apply a 'treatment' to said diagnosis. This approach basically makes various human conditions into 'illnesses' that need 'interventions' like medication or cognitive behavioral therapy. In a recent paper, BPS has criticized this framework as harmful to individuals and the public.

"The Society is concerned that clients and the general public are negatively affected by the continued and continuous medicalisation of their natural and normal responses to their experiences; responses which undoubtedly have distressing consequences which demand helping responses, but which do not reflect illnesses so much as normal individual variation. (p.1)"

"We believe that classifying these problems as 'illnesses' misses the relational context of problems and the undeniable social causation of many such problems. For psychologists, our well-being and mental health stem from our frameworks of understanding of the world, frameworks which are themselves the product of the experiences and learning through our lives. (p.4)"

As a practicing psychologist who also teaches a class on diagnosis for master's level therapists, I could not be more excited reading this paper. BPS essentially takes a more humanistic and social constructivist approach to the problems of living. The benefits of this include reducing stigma, a larger focus on the interpersonal dimensions of mental health, and normalizing the experience of having problems during life. Cheers to you BPS, now if only your American counterparts would get the message . . .

Dr Will Meek is a psychologist practicing in Vancouver, WA. He writes regularly about mental health on his blog: Vancouver Psychologist.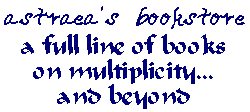 Email | Guestbook | FAQ | Astraea home | Multiplicity | Religion | Politics | Anti-Psych | Anti-FMSF | Silly
Back to where you were